Somfy GDK 700 - Garage Door Motor + TaHoma
Details
Somfy GDK 700 - Garage Door Motor + TaHoma
With this discounted pack you bring the best of both world into your home. A powerful motor for to power your garagedoor and the Somfy Smart Home hub TaHoma. Get you 15% discount today!
The Somfy GDK 700 allows you to operate your automated garage doors from the comfort of your car. When you're near your garage doors, simply use the remote control to open and close them, meaning you won't have to face the elements.
The unique belt transmission ensures silent operation without compromising on its strength or ease of use. The whisper quiet opening and closing function, alongside its soft start/stop system, means you never have to worry about disturbing your family members when you arrive home late.
This easy to install device also features 700Nm lifting capabilities, making it ideal for garage doors up to 70 KG and 7m². With its built in lighting, obstacle detection and burglar protection, the GDK 700 ensures security and easy access at all times.
Please read the product documentation and ensure your door is in a suitable condition and can be motorised before installation. If you are unsure, contact customer services or speak to a garage door professional.
Silent garage door operation
Suitable for sectional and tilt opening garage doors (max 70kg and 7m²)
Easy to install, configure and use
Built in burglar protection and obstacle detection
Compatible with TaHoma - control your garage door from your smartphone
Comes with a comprehensive 5 year warranty
The Somfy TaHoma allows you to centralise control of your home's automated features. Compatible with expert partners and more than a hundred different Somfy products, our smart home system lets you open your blinds, switch on your lighting or operate your garage doors all from your PC, or using the Somfy TaHoma app on your smartphone.
Somfy TaHoma benefits
As well as delivering complete comfort and control, the Somfy TaHoma also offers energy saving benefits, with sun sensors that automatically adjust your blinds or shutters to keep your home cool in summer and warm in winter. And with email alerts, coupled with the ability to remotely adjust your home's features, you can rest assured that your home is secure at all times.
Control multiple devices at once with scenario settings and personalise your Somfy TaHoma home automation system to suit your lifestyle with smart programming features that ensure your home always works to your schedule.
Easy installation with Somfy TaHoma Coach tutorials
Intuitive interface and easy to program
Compatible with expert partners and over 100 Somfy RTS & io homecontrol products
Improved security, comfort and energy saving benefits
Week and year diary programming for home management that fits your lifestyle
Control multiple smart devices at once with scenario settings
Automate control by sensor or schedule with smart programming
Receive email alerts to always stay on top of things
Comes with a comprehensive 5 year warranty
What's included?
1 Somfy TaHoma
1 Power cable
1 Ethernet cable
1 Quickstart manual
1 Motor
1 Rail
2 Controls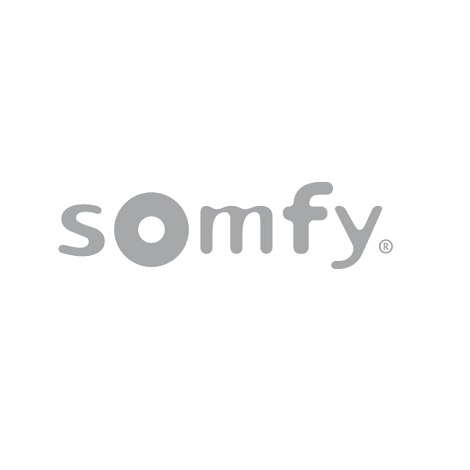 Specification
TaHoma
Integrated protocols: io-homecontrol and RTS
Dimensions: 110 x 71.25 x 28.13 mm
Weight: 0,235 kg
Power: USB Micro (5VDC / 500mA) Power 110 / 230V- 50/60 Hz
Consumption: 0.1A (nominal)
Connection slots: 1 x RJ45 Ethernet 1 x Micro USB 1 x USB port
Operating temperature: 0 ° C to + 50 ° C (IP 20)
Color: White
Other: LED (red / green / orange / white)
Extra: Hover Button on the front of the box button to run a script
Protection: IP 30
Radio frequency: 868-870 en 433,42 MHz
Radio Range indoors: 20m
Radio Range open space: 200m
Size of packaging: 150 x 150 x 150 mm
Number of connectable equipment:
Maximum number of devices per system: 200 (all technologies)
Io-homecontrol: 200
RTS: 50
Sensor/alarm sensors Somfy: 50
Cameras: 5
Launchers scenarios: 20
Philips hue: 1 bridge (50 hue products)
GDK 700
Mains supply: 230V - 50/60Hz
Reduction gear supply: 24V DC
Max. power consumed: 120W
Standby consumption: 4W
Traction force: 700 N
Types of rails available: Belt transmission
Lengths of rails available: 2.9m in 3 parts
Use: 15 cycles per day for a standard rail (tested for 10000 cycles)
Min. height under the lintel: 35mm
Overall length: With a 2.9m rail: 3.29m (3.09m if the motor head is mounted with a 90° offset)
Weight motor head: 4kg
Weight rail: 9 kg
Opening speed (in load): 14cm/s max.
Number of channels that can be memorised: 32
Transmitter in the kit: Keypop 2 RTS
Somfy radio frequency: 433.42 MHz RTS
Built in lighting: G4 24V 20W
Operating temperature: -20° / +60°
Packaging dimensions - L 120cm, W 33cm, D 18cm
Warranty: 5 years
What's included?
1 Somfy TaHoma
1 Power cable
1 Ethernet cable
1 Quickstart manual
1 Motor
1 Rail
2 Controls