Feel secure and safe with the plug and play Somfy Home Alarm combined with Indoor Camera and Outdoor Siren. This pack offer great value and will keep your home safe while you can keep an eye out when your not home as you are always connected via your smartphone.
Compatible with: Amazon Alexa - Google Assistant - IFTTT.

More information
In stock
How Smart Tech can help aid a good night's sleep
To celebrate National Sleep Awareness Month, we take a look at how we can incorporate Smart Home technology into our routines to help aid a good night's sleep.
In an ever-hectic world, the focus can be on getting the most out of our days, rather than making the most of our nights. However, studies show that a good night's sleep is what underpins our success during our waking hours in several ways.
It's not just the length of time you sleep, but the quality that really matters. We all know that frustrating feeling of having slept for eight hours but still waking up craving more time in bed. Thankfully there's a vast benefit our developed world has brought with it; technology to counteract these distractions. Somfy's Smart Home solutions such as smart lighting, window coverings and home security can all be linked together to ease you into that perfect night's sleep.
Start early
With so many distractions present, like watching one more episode of your favourite TV show, you may still find that staying up late is much more tempting than an early night.
To counteract this, start setting the mood for bed well before you step into the bedroom. Your brain sees light bulbs and still thinks it's a sunny daytime, so set light levels around your home to emulate the feeling of the sun setting and start triggering the release of those sleep hormones. With smart-connected lighting systems from Somfy, each room can be set to its own level of brightness, going from white and bright in your kitchen, to a relaxing glow in your lounge, automatically getting dimmer over the evening to gently transition your brain from 'day' to 'night'.
Create a cave
As you move into your bedroom, arrive to find your room cosy and low lit, to make the idea of getting into bed even more appealing.
Prepare your room so once you're tucked up and the lights are off, your space is dark and peaceful. Studies have shown that light falling on even a small patch of your skin can impact the quality of your sleep. Turning off electronic devices with flashing lights can make a big difference inside the room; add draped curtains, blinds and external shutters, and all light and sound from the outside can be thoroughly blocked out as well. Like the lights, curtains and shutters can be put on a synchronised system, using a timer or controlled remotely through the Somfy TaHoma app, so the stage is set before you've even put on your pyjamas.
All these elements can be tweaked through apps on your phone, so if you do need to change something, you don't even have to get out of bed! Most phones allow you to set a night mode, which replaces blue light from your screen with a more sleep-friendly orange, which means checking your phone won't break your drowsy mood.
Safe and secure
Being safe in your own home is key to a restful night; nothing is worse than feeling like you're sleeping with one eye open or an ear cocked for any strange sounds.
Most break-in attempts come through doors or windows; Somfy IntelliTAG™ uses multiple sensors and an advanced algorithm to analyse vibration patterns and detect the first sign of a break-in. IntelliTAG can tell the difference between normal events and potential threats, meaning no more false alarms. Within nanoseconds of the break-in attempt, IntelliTAG triggers the siren and sends an alert to your smartphone. For full peace of mind that Somfy is taking care of your home security, implement a Somfy Home Alarm and security cameras for a complete connected system, which can be controlled remotely from your smartphone.
A new day
Just as your smart connected home helped put you to sleep, the same systems can be used to launch you, fresh and rested, into a new day. Wake up as humans were supposed to, with a natural 'dawn' created by the automated opening of your curtains, and a gradual raising of the lights. Having adjusted these settings perfectly to suit the rhythm of your life, enjoy a more fulfilling sleeping routine which leaves you ready to crack on with everything your day has to offer.
Somfy Home Alarm + Indoor Camera + Outdoor Siren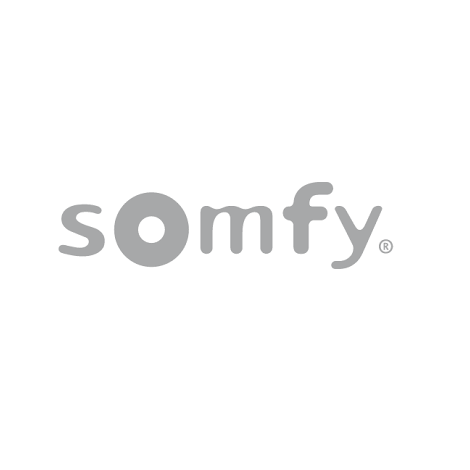 Details
Somfy Home Alarm + Indoor Camera + Outdoor Siren
With this extended Somfy Home Alarm Pack you protect your home inside and out. The indoor security camera that records everything thanks to the built in motion sensor and notifies you via push message. With the active privacy shutter your private life is automatically shielded. The motion detector and the three door and window sensors that come as standard immediately send a push message to your smartphone if there is a burglary. A loud siren goes off at the same time. The Outdoor Siren emits a loud noice and a bright flash.
The thought of someone breaking into your home, prowling around your house, looking for valuables, perish the thought! What you really want is for the thieves or burglars to just keep off your property.
The IntelliTAG™ is the only door and window sensor that warns you if there is an attempted break-in BEFORE the intruders break in. In the process, it can recognise the difference between a ball bumping the door and the door being forced open.
And what about your pets? With the smart motion detector, animals up to 25 kg can romp around and run past the sensor without setting off the alarm.
For convenience, you get two key fobs that you can use to switch the alarm on and off. Even better, as soon as you get close to your house, the system 'sees' that you're standing in front of the door and is automatically switched off. Which is really useful if you happen to have your hands full.
Your Somfy Protect alarm system is extended with an Indoor Security IP Camera and an Outdoor Siren, for even more safety and security. When the camera sensor detects motion it automatically records for 30 seconds and a notification will be sent to your smartphone. The Indoor Camera has a privacy shutter, as soon as you enter the room, the camera literally closes down, so everything you do in the privacy of your own home is for your eyes only. With its 2-way audio communication, Somfy Indoor Camera lets you talk and listen using your smartphone. To complete the package we added an Outdoor Siren with flashlight for extra safety.
The Somfy Home Alarm can be expanded to include various handy accessories, such as cameras and smoke detectors. When the smoke detector is activated the camera will immediately start recording and saving images. You can also view what's going on directly via the live stream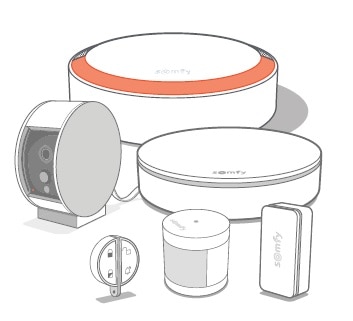 Features
All-round wireless alarm system: every nook and cranny is protected, and it comes complete with a siren
IntelliTAG™: smart door/window sensor that warns you BEFORE the intruder has broken in
Motion detector: reacts immediately to unexpected temperature differences while ignoring pets
Push messages: tell you about suspicious activities immediately via your smartphone
Easy to install: sensors can be placed on or stuck to a surface
Plug and play: installed and active within 10 minutes
Somfy app: helps to remind you that you have to activate the alarm
What's included?
1x Link
1x Indoor siren
1x Motion detector
3x Intellitag
2x Keyfob
1x Indoor Security Camera with privacy shutter
1x Outdoor Siren
Each component has its own role to play:
Link
The heart of your Somfy security system, it connects to your Internet through Wi-Fi and links all the elements wirelessly.
IntelliTAG
Smart wireless door and windows sensor, it sets a security perimeter around your house and detects intrusion attempts.
Key Fob
Personal remote control that automatically disarms your system when you get back home.
Indoor Siren
Wireless, it sounds at 110db when an attempted break-in is detected. Set it up anywhere, it adapts to your interior design.
Indoor Motion Sensor
Small, discreet and wireless, it detects all human movements while remaining indifferent to pets.
Outdoor Siren
Wireless, it can be placed either outside of your home. When an attempted break-in is detected, it sounds at 112dB.
Indoor Security Camera
Motion detector, the camera starts recording as soon as it detects movement. Active privacy shutter so your private life is automatically shielded and with its 2-way audio communication the Somfy Indoor Camera lets you talk and listen using your smartphone.
You can enhance your Somfy Protect system even more:
A full HD camera with night vision and a powerful siren (110 dB) and a built-in speaker that lets you talk to intruders. With motion detection it immediately starts recording when motion is detected and smart activation function that switches off when you get home and sends a reminder to switch on when you leave.
Radio range extender
Increases your Link's radio range; extends radio coverage between all Somfy Protect system devices and guarantees reliable, high-level security.
Specification
Link
Supported communication protocols: WiFi 802.11 b/g/n 2.4 GHz (open, WEP, WPA2, PA/WPA2 mixed mode)
Capacity: 50 IntelliTAGs / Motion sensors, 50 Key fobs, 2 Indoor Sirens, 2 Outdoor Sirens, 2 Radio Extenders, 4 Cameras
Radio jamming detection / encrypted radio communication
Embedded backup battery in case of power outage (up to 6 hours)
Dimensions: 89 x 30 mm
Weight: 132g
Operating temperature: 0-45 °C
Indoorcamera
Video
HD video sensor 1080p / 30 fps live view
Wide angle 130 (diagonal) with fixed focus (60 cm/ 1.9ft to infinity)
Night vision (6m) with mechanical infrared filter
Digital zoom x4
SomfyVision motion detection (5 m/ 16ft)
Other:
WiFi 802.11 b/g/n (2.4 Ghz) - open/WEP/WPA WPA2-Personal supported
Audio: Built-in speaker and microphone
USB adaptor (5V/2 A)
Dimensions: 43 x 90 mm
Weight: 195g
Operating temperature: 0-45
Optional you can combine the Indoor Camera with the wall mount to hang your Somfy Indoor Security Camera up high, right on your wall.
Outdoor Siren
Wireless operating distance 200m (open air)
4x Alkaline D (2 year battery life)
Tamper protection
Outdoor use: IP43
Dimensions: 175 x 45 mm
Weight: 1200g
Operating temperature: -10-45 °C
IntelliTAG
Wireless operating distance 200m (open air)
1 AAA battery (1 year battery life)
Tamper protection
Indoor and outdoor use (IP54)
Dimensions: 60 x 28 x 13,5 mm
Weight: 28g
Operating temperature: 0-45 °C
Motion Sensor
Wireless operating distance 200m (open air)
1 CR123A (2 year battery life)
130 ° wide view angle
Tamper protection
Dimensions: 47 x 47 mm
Weight: 55g
Operating temperature: 0-45 °C
Key Fob
Wireless operating distance 50m (open air)
1 x Lithium CR2032 (1 year battery life)
Dimensions: 34 x 10 mm
Weight: 12g
Operating temperature: 0-45 °C
Indoor Siren
Wireless operating distance 200m (open air)
4x Alcalin D (2 year battery life)
Tamper protection
Dimensions: 175 x 45 mm
Weight: 985g
Operating temperature: 0-45 °C