Smart living starts with Somfy®
Somfy Smart Home puts you in control, makes your life easier, more comfortable and gives you peace of mind, wherever you are. Monitor and operate blinds and curtains, lights, heating, garage doors and gates with your smartphone or tablet.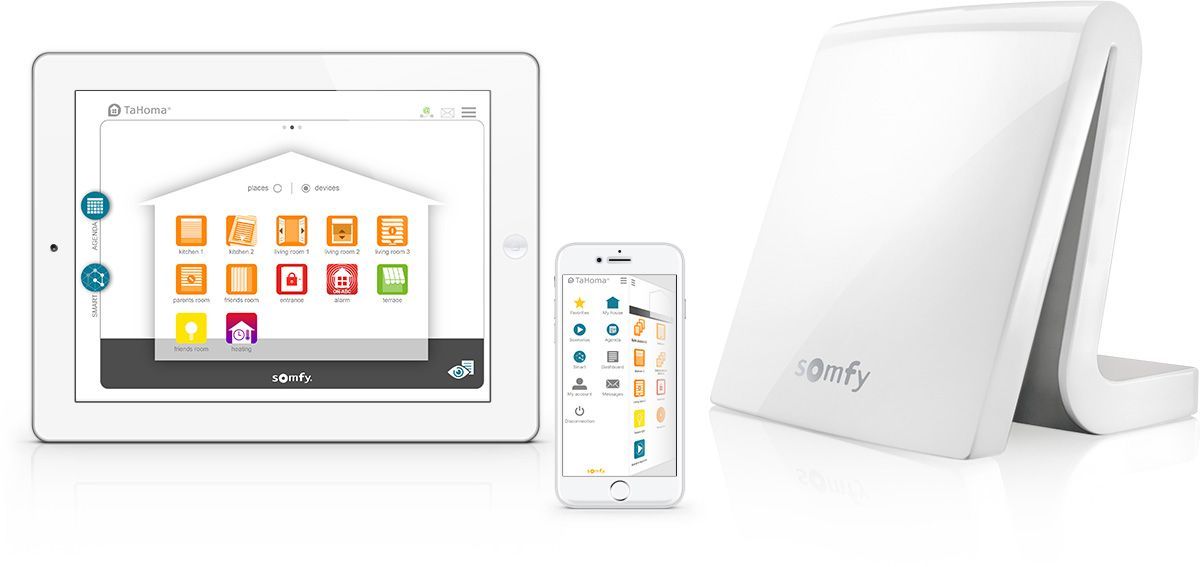 Smart living with TaHoma®
TaHoma® is a smart box that connects you to your home. The heart of your Smart Home, it
links products to the TaHoma® app so that you can control and adjust them, whenever and
wherever you like, from your smartphone. Would you like to switch off the lights and
roll down the shutters with one simple gesture? Nothing could be easier with TaHoma®.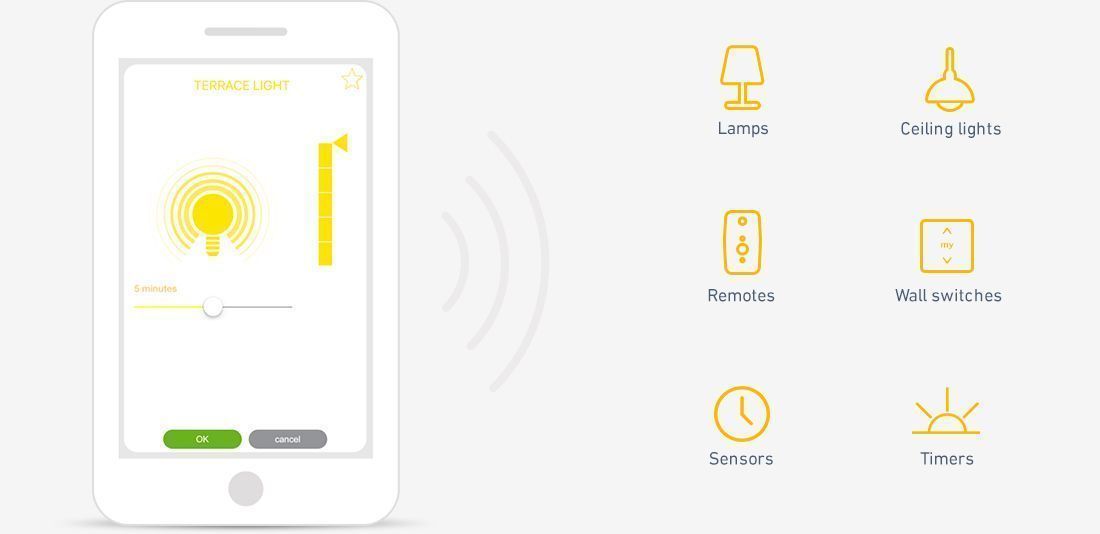 Connect all your lamps and ceiling lights.
Control lights with your smart phone or choose one of our wall switches or remotes.
Activate lights at set times to welcome you home, wake you up or when you are away for peace of mind.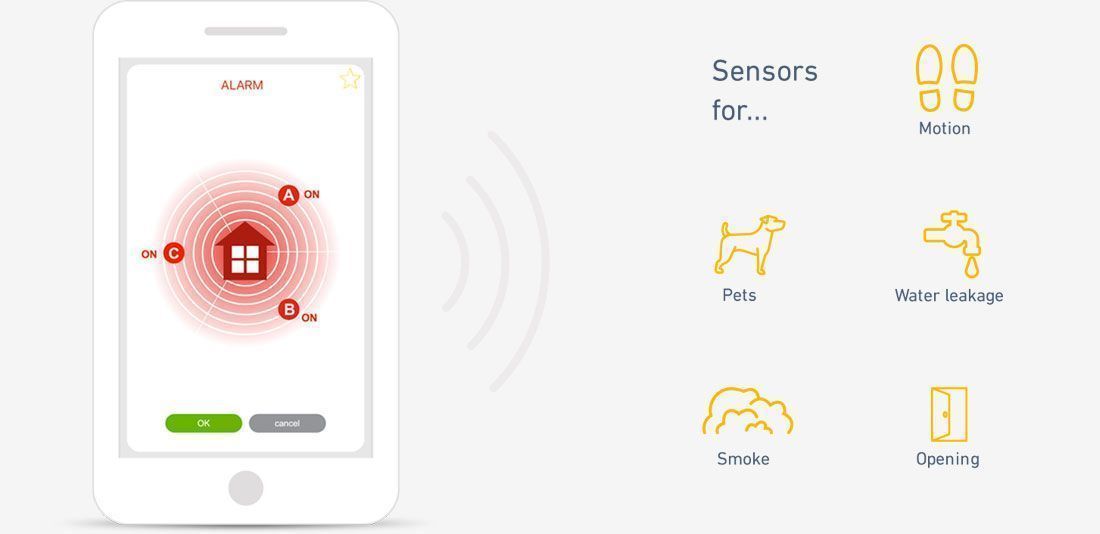 Receive reports on anything that happens inside and outside your home.
Use opening sensors on doors and windows to alert you to intruders.
Link motion detectors to your lights, blinds and curtains to activate them when you leave or arrive home.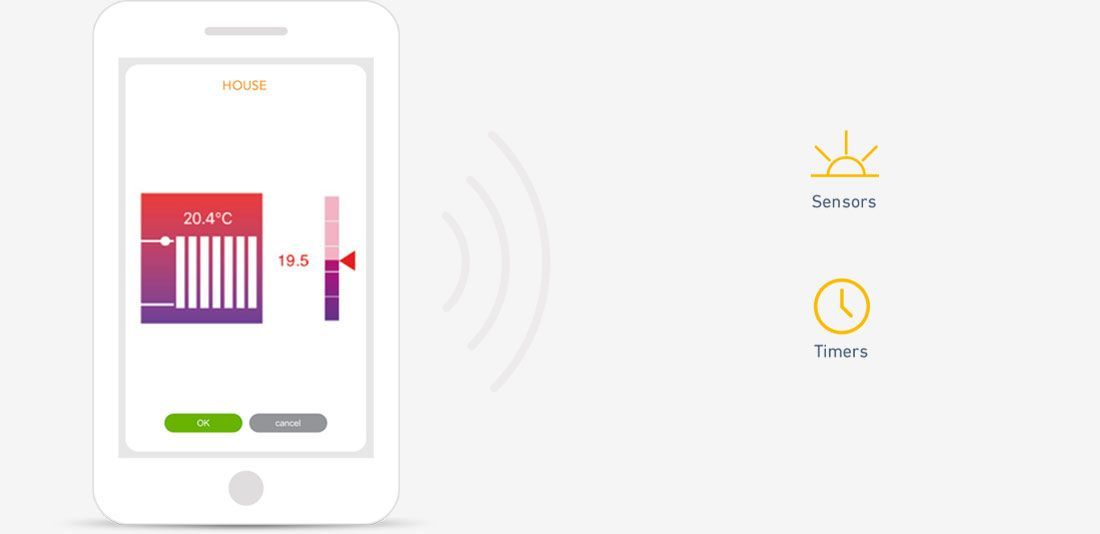 Link our sun or temperature sensor with your blinds and curtains to keep your home at a pleasant temperature and save money.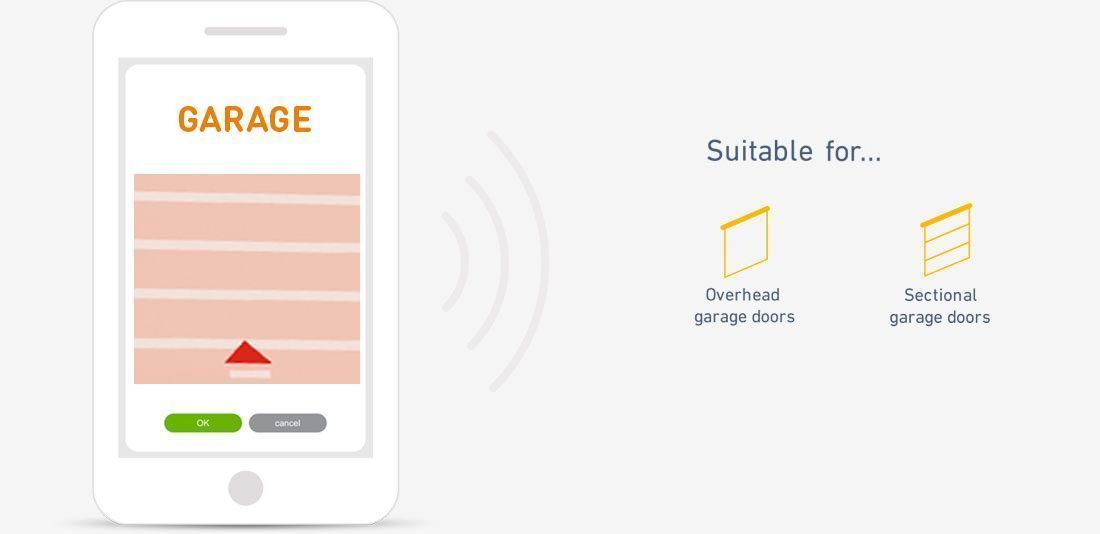 Operate your garage door from your smart phone, tablet or computer.
Reliable, safe and easy to use with a variety of different garage doors.
Use TaHoma to link with other equipment such as outside lights and garage lights.
3 simple and intuitive menus that let you control
your home, your way
Scenarios
Create your own scenarios so you can operate several applications with one click. For example, the "Wake up" scenario opens the shutters, switches on a few lamps and turns the heating to 20°C, all with one click.
Create standard days when one or more scenarios are switched on and arrange those days as a calendar. For example, "Holiday" will automatically set the heating to eco, switch on the outside lights and close the blinds every evening while you are away.
Program a number of actions that are activated in certain conditions. For example, if the smoke sensor detects smoke, your roller shutters automatically open and the lights turn on, allowing you to find a safe route through your property.
It's easy to set up your TaHoma® box, just follow these 3 simple steps

Connect your TaHoma® box to the internet via the supplied cable

Activate your TaHoma® online via www.somfy-connect.com

Install the free app and start linking your products
All the help and advice you need is right here