Security for our home and our loved ones
THERE are plenty of security solutions out there that help us protect our property, but what about protecting those things which are truly priceless - our loved ones?
Any parent will know that we spend a huge amount of time worrying about our kids. In fact, a study found two thirds of UK parents regularly worried about their children. And it's not just the little ones either, because we also worry about elderly and vulnerable relatives as well as our pets too.
But imagine if there was a way to reduce that worry, giving you total peace of mind, comfortable in the knowledge that even when you're away everyone is at home safe and sound?
Introducing Somfy Protect:
Somfy Protect is more than just a security system, it's a complete ecosystem of connected smart products that you can mix and match and create the ideal solution for your home and family's needs. Easy to install in only a few minutes, you can monitor and control everything from your smartphone, from the outside of your property, to the indoor environment where your pets and children play.

Key Components: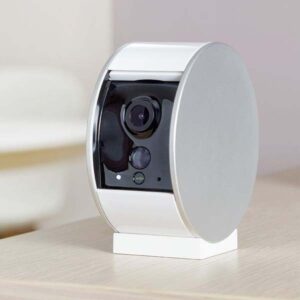 Keeping a careful watch on your family is easy with either of Somfy's two camera solutions; Somfy One and Somfy Indoor Camera.
Somfy One is the complete all-In-one security setup which includes a siren, camera and motion sensor. Featuring an HD camera with night vision – nothing is going to be able to hide from this ever vigilant watchman. As soon as it detects an intruder it'll snap a photo and a video as proof, while the 90+ dB siren goes off automatically to scare off the burglar. One other advantage of the Somfy One is that you can expand the camera with all kinds of smart sensors.
The Somfy Keyfob is used by the kids or older relatives so that when they come back to the house and scan in, the receiver sends you a notification so you know they're safely home.
You can add a range of other accessories too including an outdoor and/or indoor siren and a motion sensor, allowing you to carry on about your business, send that last work email, finish your shopping or drop in to pick up some takeout food on your way home, knowing everyone is safe and sound.
Or by adding the indoor camera to your Somfy Protect system you can monitor the inside of your property, allowing you to quickly and easily see what's happening on your smartphone screen. Watch the kids play or your elderly relative at rest, while keeping an eye that the dog isn't making too much of a mess in the kitchen!
Community Sharing:
Another great feature of both Somfy One and Somfy Indoor Camera is that you can open it up to anyone, be it a friend or a neighbour, and let it alert them as well as you. You can set multiple profiles of either 'owner', 'kids' or 'guests'. That way, even if you're an hour away from home and something happens, they'll be notified too and can go around and check on things for you. This provides you with an added layer of reassurance knowing there is another set of eyes and ears keeping tabs on your property and family. Simplicity, security, peace of mind.