Somfy celebrates five decades of innovation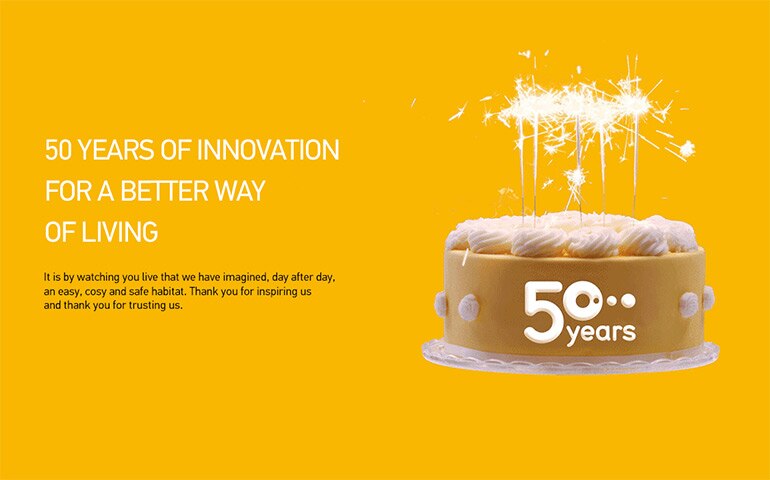 THEY say time flies when you're having fun.
At Somfy we find nothing more enjoyable than innovating, so it's no surprise that we're celebrating our 50th birthday this year! Those five decades have been filled with ideas, discoveries, and doing our very best to bring you – our loyal customers – revolutionary products that help turn your house into a home.
Dawn of a new tech age:
It all started back under the watchful gaze of Europe's highest mountain – the irrepressible Mont Blanc. Amongst the Alpine forests of Cluses, it was here in 1969 that Somfy developed the first tubular motor, heralding the end of the cumbersome crank handle and ushering in a new dawn of technology for electric roller shutters, screens, awnings and blinds.
Somfy hits the airwaves:
In 1989, Somfy's first TV ads appeared on prime time on France's Canal+. By 2005, the campaigns had become international and heralded the arrival of Somfy as a brand no longer just known to a select few professionals, but to everyone all over the world.
Radio control begins:
Yet another breakthrough was made in 1997 when Somfy integrated radio technology into its motors. Harnessing the power of Somfy's RTS tech it meant that screens, awnings, blinds and roller shutters could now be operated by remote control, making everyday life so much more easier and comfortable. It was a truly ground-breaking development which paved the way for a new era of tech that would eventually lead to the modern smart home.
Security integration:
At the dawn of the new millennium as many wondered what exciting technological breakthroughs would come our way, Somfy once again delivered innovation with motorised garage doors and gates. Somfy products could now control every opening in the home as well as security too – it meant full home automation was born.
Smart home tech:
It's hard to believe it was way back in 2010, but Tahoma was born almost nine years ago. Fully compatible with the cloud and radio tech, it allowed users for the very first time to control their homes from their smartphones, tablets and computers. Today, over 200 devices are compatible with the system, for a truly modern and flexible Smart Home.
Latest innovations:
The last four years have seen further leaps in innovation at Somfy. New super-quiet motors were developed in 2015, kinder to the environment and designed for the smart home. Just two years later Somfy launched a range of new flagship products, including Somfy One, a camera with a built-in alarm.
In 2018 it was all about collaboration, with major names in heating, light, music and virtual assistants such as Sonos, Ifttt, Philips Hue, Google Assistant and Apple Home Kit partnering their tech with Somfy to enrich the connected home experience, encouraging third party developers to develop innovative additions to Somfy's systems.
The future:
Somfy has earned a reputation for innovation and quality over the years with a range of products designed to improve security and convenience both inside your home and out, but we won't stop there.
With nearly 9,000 staff in 57 countries, Somfy is now a global brand that's always moving forward, always innovating. With our loyal customers on board for the journey, we know the next 50 years will be as exciting as the last!